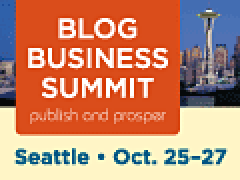 I've arrived in Seattle for the Blog Business Summit.
I'll blog as much of the conference as possible. Sessions I'm hoping to take in today include:
And that's just in the morning (whew.) In the afternoon, I'm looking forward to:
Mary Hodder, Dave Taylor and Halley Suitt, RSS and Feeds: Monitoring the Blogosphere and the Buzz
Ben Edwards, Nicki Dugan and Betsy Aoki: Corporate Blogging Policy
Betsy Aoki, Korby Parnell, Jeff Sandquist and Jana Carter: Microsoft and Social Media: Lessons Learned from MSDN Community Blogs and Channel 9
I'll try to live blog each of these sessions (surely there will be Wi Fi). If I get a good connection, I'll post after every session. Otherwise, they'll come in a bunch whenever I can get a connection.
I hope you'll follow along