Every November, friends and family cringe as I engage in the annual Mustaches for Kids campaign. Through Mustaches for Kids, men around the world band together to raise funds for charities such asDonorsChoose.org, the Make-A-Wish Foundation, Children's Hospital of New Orleans, and San Francisco's Legal Services for Children.
The local chapter I participate in – Mustaches for Kids Ottawa – raises funds for the Make-a-Wish Foundation – which uses the money to make a sick child's wish come true.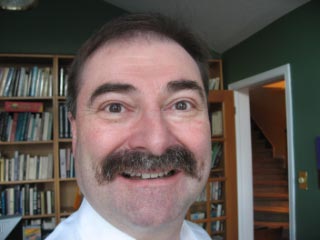 This year, the mustache-growing men of Ottawa raised over $32,000 for the Make a Wish Foundation. That brings our five year total to $82,000.
Several people noticed my hirsute appearance and contributed as a result. Big thanks to Terry Fallis, Dave Fleet, Guy Skipworth, Eden Spodek and Dave Hicks. Somewhere there is a sick child who feels a bit happier thanks to your generosity.
And thanks to to M4K's Ottawa organizer Brett Tackaberry for keeping this effort growing for the past five years.
So, for now it's back to being clean shaven. But don't worry, I'll give everyone reason to chuckle at me when I start the whole process over again November 1, 2010.