Mesh 06 was a seminal event for Canada's social media community. Happily, Mark, Mathew, Mike, Rob and Stuart, have decided that one good event deserves another. And that means there will be a Mesh 2007.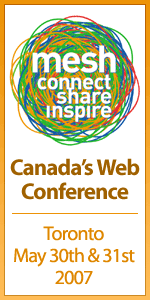 Here's one session I hope the organizers include in this year's program: "Social media, Corporate Brand and Personal Brand: The Employer's Dilemma."
In the past year, we have seen several prominent bloggers and podcasters leave their old companies for newer pastures. Some examples: PR uber blogger Steve Rubel left CooperKatz to join Edelman. Podtech made Microsoft's prize blogger Robert Scoble an offer he didn't want to refuse. Blogging reporter Mark Evans decamped the National Post for the excitement of new media startup, b5media. And close to (my) home, Fleishman Hillard recruited David Jones from my company, Thornley Fallis.
In each case, these bloggers had been encouraged (or permitted, in Mark's case) to blog by their original employers. In each case, they built up their own personal brand. And in each case, their personal brand and their employer's brand were closely linked.
Then they left. And their now former employers were challenged by this departure. What did it say about the company that they had chosen to leave? What did it do to the company's brand? Did it diminish it? How did each company react?
I think a discussion on this topic could yield some valuable insight into how employers should approach the challenge of encouraging blogging employees while recognizing that their success makes it more likely that they will be more mobile than other employees. What attitude should they take to employee bloggers? Can companies develop enduring brand equity through the activities of these bloggers or will their equity and good will depart with them? Do traditional approaches to Intellectual Property apply or do we need a new set of rules?
I hear these questions from many of the business executives who discuss blogging with me. I think that a good panel of employers and bloggers who have already experienced this social media effect would provide insight that others can apply in future.
What do you think? Would you attend a session like this? How about panelists? Who would you like to hear discussing this topic?