The recession is over. Hurrah. And our business is growing. Hurrah again.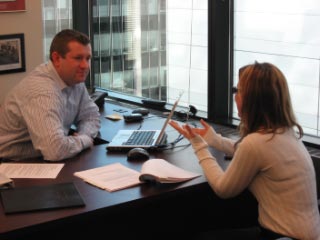 Recessions are hard on everybody. But they can be especially tough on the leaders who have to make the decisions that affect others. It can be like carrying the burden of not only your own anxieties, but the anxieties of everyone you work with. Sometimes, you can just be so ground down by the stress and burden of carrying a team through the bad times that you feel that the only way you can get your energy back is with a complete change of scene.
That's happened to us. The General Manager of our Toronto office was recruited away from us. We're sorry to see her go. Not only was she very good at her job, but she was one of the nicest people you could ever want to work with and a friend. We'll miss her.
Now we have an opening on our management team. And we need to move quickly to fill it.
We're looking for a General Manager for our Toronto office.
Do you know this person? Or might it be you?
What does our general manager do?
Our General Manager will:
Lead a talented team of consultants whose expertise spans social media, traditional public relations, Web design and development, and advertising. You'll ensure that they have what they need on a day by day basis to succeed and you'll ensure that we're delivering real results for our clients and pursuing opportunities to grow our business.
Set an example of excellence in your communications skills and personal conduct. Be a person who inspires by example.
Mentor and guide the team members. This includes developing an annual career plan with each employee and conducting progress reviews. We want our employees to grow with us. We count on our General Manager to make sure that everyone is thinking about what they want out of their professional careers and that they are working toward attaining that.
Work with our CFO to establish business targets and ensure that we achieve them. A business has to be successful in order to provide a bright future for its employees.
What kind of person are we looking for?
You have already achieved success in your career as a communicator. You have demonstrated your leadership skills through responsibility for a team and a business unit.
You are a successful consultant, having already demonstrated that you understand client needs and that you can organize a team to meet those needs and deliver creative solutions that deliver real results.
You have established relationships with senior executives who lead the communications and marketing functions in their companies. And those people want to work with you again. In fact, you're confident that when they hear you're working with Thornley Fallis, they'll want to talk with you about you and your new team can help them.
You inspire loyalty. The people who work with you love working with you. They know that you care about them and that you'll put the needs of the team ahead of your own needs.
Are you Thornley Fallis' next Toronto General Manager?
Does it sound like a job you could excel at and that you'd be passionate about? If so, connect with me on LinkedIn or DM me on Twitter.