You may know him as Dell's Vice President of Communities and Conversations, where he headed Dell's social media team. But since April, he's Bob Pearson, President of the Social Media Business Council, which brings together large companies to understand social media and how they can adopt it in an intelligent, effective way.
The members of the Social Media Business Council are the heads of social media at Fortune 1000 companies, including Molson,  Dell, Coca-Cola, Allstate, Cisco, Ford, General Electric, H&R Block, Home Depot, Intel, Intuit, Johnson & Johnson, McDonald's, Microsoft, Petro-Canada, Pfizer, Procter & Gamble, Starbucks, UPS and Walmart.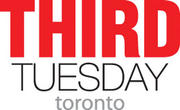 Bob has run one of the most successful social media outreach programs during his time at Dell. Today, he rubs shoulders with the senior executives who are trying to the do the same at other big companies. At Third Tuesday Toronto, he will share his unique perspective on the right way for corporations to engage with social media. What are the largest companies hoping to achieve through social media? What are the biggest challenges they have to adopting it effectively? What works well and what doesn't seem to work?
You can register online to attend Third Tuesday Toronto with Social Media Business Council President Bob Pearson.
Thank you to our sponsors
There's a lot that goes into putting together Third Tuesdays. And we couldn't do it without the support of our sponsors. Sponsors for this month's event include Molson Canada – Ferg Devins thought of us when he heard Bob was coming to Toronto and arranged for him to speak to us; CNW Group, our founding sponsor; and the Berkeley Event Venue, who provide us with a fabulous and friendly place to meet.