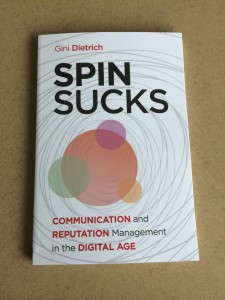 Spin sucks! You know it and I know it. And Gini Dietrich knows it. But even more, Gini has written a new book, Spin Sucks, in which she shows us how to replace spin with authentic communications that your community will find informative, entertaining and useful.
Spin Sucks the Book has just launched. And in this week's episode of Inside PR, Martin Waxman and I talk with Gini about the book, what it tells us, and her innovative approach to marketing the book. (If you know Gini, you wouldn't expect anything less from her than to turn the launch of her book into a marketing experiment. She's always thinking of how to do things better.) This included a Brand Ambassador program to spread the word about the book so that Gini could maintain a much more limited travel schedule to promote Spin Sucks than she had to maintain when promoting her previous book, Marketing in the Round. Over 800 people applied to be a Brand Ambassador, agreeing to buy the book and write a review to coincide with the launch date. Ultimately, she selected over 200 of the applicants to be Ambassadors.
If you wonder what type of results Gini got from this approach, check out the quality of the reviews on Amazon.com. High quality, Well written, persuasive reviews from people who've read and loved the book. (At the time I write this, there are 76 reviews of Gini's book. Sixty five are 5 star and eleven are four star.)
It doesn't get much better than that.
This is an excerpt from an article originally posted on the Inside PR podcast blog.