Canadians have the best of all worlds. We live close enough to the United States to be able to share US media and pop across the border to spend weekends in US cities (Hello New York, Boston, Chicago, Seattle!) But we still get to keep our own spelling of worlds like colour, pronounce the letter Z as "zed" and watch our democracy unfold in the daily ritual of Parliament's Question Period.
Yet, when it comes to the introduction of new Google products, we often have a much less happy situation. And this is one of those times.
For the past few weeks I've been watching reviews of the Chromecast, the new Nexus 7, the HTC One Google Play and Samsung 4 Google Play phones. All look like awesome devices. And all are just out of reach for a Canadian.
This is what I see when I sign onto the Canadian Google Play device store:
The Canadian store offers only last year's devices – the Nexus 7 2012 version and the Nexus 4. Not one word about the awesome new devices that my American friends sixty miles south of me are ordering and testing.
When it comes to the introduction of new products from Google, Canadians are so close, yet so far away.
UPDATE:
July 31, 2013 Still no sign of the new Nexus 7 on the Google Canada Play devices store. BestBuy.ca now shows one model of the new Nexus 7. However, it is not available to buy online nor in a store.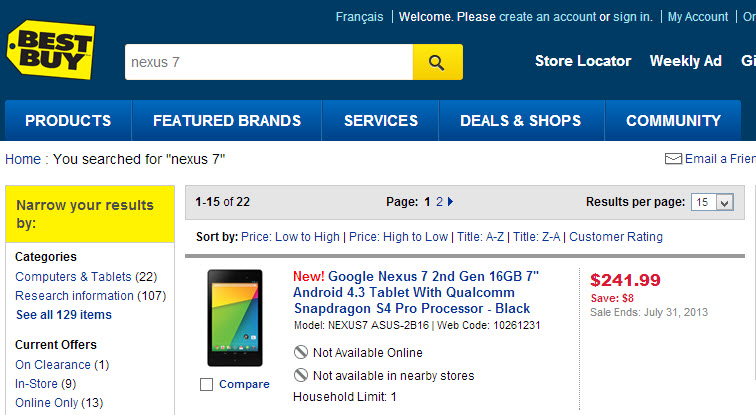 UPDATE 2:
August 13, 2013. Slowly, slowly, the rollout is occurring.The New Nexus 7, well at least the 16GB version made its appearance on the Canadian Google Play store this morning.