You've had a busy day at the office, using your mobile phone or tablet pretty much constantly. Then it's time to rush out the door to your favourite event, like Third Tuesday Toronto. You arrive and you want to check in and begin Tweeting and what do you discover? Your battery is almost dead. So you start searching for an electric outlet and asking your friends if they have the connector you need for your phone or tablet.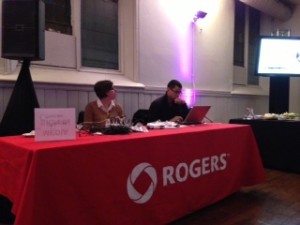 Well, that almost happened to me last night at Third Tuesday Toronto #3TYYZ with Julien Smith. But not quite. Because our Third Tuesday sponsor, Rogers Communications was on hand with their charging station to enable me and anyone else at the event to recharge our mobile devices enough to get us through the evening.
So, thank you to Rogers Communications for being a generous sponsor of Third Tuesday and then going even farther and offering us the extra benefit of two staff and equipment to keep us charged and connected.
(Disclosure: Rogers did not ask for this post. And yes, they are a sponsor of Third Tuesday and a sometime client of my firm. And yes, I am a happy Rogers customer – cellphone, tablet, home Internet, home phone, cable TV. Disclosure complete. 🙂 )