What do you get when you bring together Microsoft's Barnaby Jeans, Tucows' Leona Hobbs, Yahoo's Hunter Madsen, Dell's Richard Binhammer, Scotia Bank's Michael Seaton, Iotum's Alec Saunders, ReInvent!'s Kate Trgovac, Cognos' John Blackmore, BMW's John Cappella, along with over a dozen other top corporate marketers, bloggers and podcasters?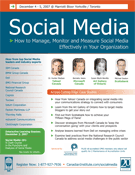 Simply the best conference on social media that Canada will see this year.
The Canadian Institute asked me to chair this conference and I had the opportunity to offer input on the panelists and sessions. I'm very pleased with the final program and I'm looking forward to attending the conference and hearing and talking with all of these great speakers. You can see the conference agenda online or download a PDF version of the social media conference brochure.
If you're planning to attend, I'm able to offer a 15% discount off the registration fee to clients, colleagues and Facebook friends. If you'd like to take advantage of this offer, head over to Facebook and send me a message that you're a subscriber to my blog and that you'd like to attend the conference.