If you, like me, are a fan of Terry Fallis' novels, you can help make his newest, No Relation, a number one bestseller by ordering your copy this week.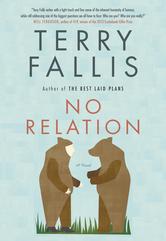 No Relation will be Terry's fourth novel. Each of his previous books, The Best Laid Plans, The High Road, and Up and Down, brought a smile to my face and left me laughing out loud. I can't wait for No Relation to be released next week.
As I was looking at my calendar this morning, it occurred to me that there's something that I can do for Terry in return for all of the entertainment he provides to me. I can preorder his novel today so that it will ship to me on the date of its release. And by doing this, my preorder will be counted in his first day and first week sales.
Just like the movie business, where it's all about the opening weekend, first week sales for a novel count more than any other. If a novel opens high on the bestseller list in its first week, others will see it and a snowball effect will follow.
So I ordered my copy of No Relation this morning.
And if you're a fan of Terry's writing, you can help him to chart as high as possible in its first week on the Best Sellers list. Preorder No Relation this week on the bookstore of your choice: Kobo, Amazon, or Google Play. And of course you can go to your favourite local independent bookseller.
Let's help make Terry Fallis's No Relation a number one bestseller on the week of its release. Order it today and be counted in week one sales.