Dell has redesigned their home page. In doing so, they've missed a great chance to make their customers feel that they are recognized as individuals.
Now, I'm not a Dell-basher. In fact, I've been a fan since founding Thornley Fallis in 1995. Over the years, we have standardized on Dell equipment. With the exception of a couple Apple systems, every computer and every server we own is a Dell product.
However, I have been frustrated by my inability to configure computers the way I want them once I've entered the Small Business channel on the Dell website. From time to time, the features I want on a particular system are only offered on the "Home and Home Office" channel. In order to find the system I want, I'm forced to search and compare across channels.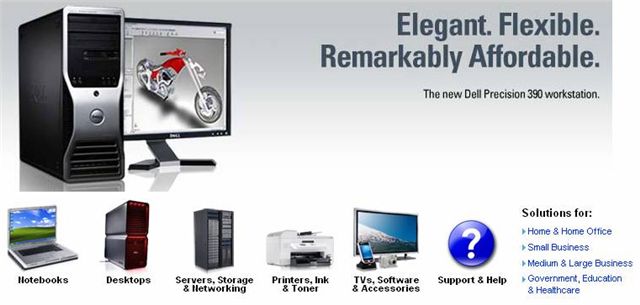 Yes, Dell has redesigned their Home Page. And guess what. They're continuing to force customers to fit themselves into segments.
In a post on Dell one2one discussing the decision, Manisha Mehta, Dell's Director – Global e-Commerce, says:
The previous version of the Dell.com home page forced you to pick what type of user you were and guided you within that segment. Products became secondary. Many users have provided feedback that they preferred to navigate by products. We made some changes, so you can now navigate by products initially, but we still ask you to identify what 'segment' you best represent.

Why? Just show me all the products you offer and let me decide . . .

Seems like a fairly easy thing to do… Can't be that hard, right?

Unfortunately, it is a bit more complicated than just changing links. When you call Dell on the phone we have specific phone numbers depending on your customer type. This way we can offer you the right product, the best solutions & accessories, and the proper warranty/services coverage for your system.
The good news in this post is the confirmation that I am not alone in my dislike of the Dell customer segmentation system.
The bad news is that Dell seems determined to ignore this feedback.
In his blog post, Manisha acknowledges that Dell's customers have told Dell that its segmentation scheme is not working for them. Unfortunately, Dell's response insists that, "This way we can offer you the right product, the best solutions & accessories and the proper warranty/services coverage for your system."
This type of thinking tells me that Dell has lost its understanding of what attracted me and (I'm sure) many others in the first place: the promise of customization by me to meet my needs. If I wanted a system that was pre-packaged by a manufacturer, I'd buy it at Best Buy.
Worse, the rationale for maintaining the segmentation seems to be connected to Dell's beleaguered telephone support system.
I live in Canada, a small market. But still, I have in my Contacts four different Dell support numbers to which I've been directed on different calls. And I can never understand why I am shuffled around.
Companies will make mistakes. They will struggle with growth. They will also face the challenge of cost control. But they must learn from their mistakes.
Dell, I hope that you know how important it is to re-establish that special experience that once was had by selecting and owning a Dell computer.