Richard Binhammer, RichardatDell, will be speaking at the Third Tuesday Ottawa and Third Tuesday Toronto social media gatherings on December 3 and 4.
Hear from one of Dell's key social media architects
Dell is a prime case study of a company that took its lumps through social media. In the summer of 2006, the company was hit by two social media crises: Jeff Jarvis' Dell Hell meme over his unhappiness with the company's support service followed by exploding batteries on YouTube
Dell also is a prime example of a company that adopted social media as part of the response to its problems. The company launched Direct to Dell, a blog where real employees talk about Dell's products and services and answer questions and issues raised by people in comments or in posts on their own blogs. It has buttressed that with a program of blogger relations, reaching out to bloggers to get to know them and become part of their community. It also has launched Dell IdeaStorm, a site that allows consumers to make suggestions to Dell and then enables the community to vote for or against these suggestions.
Richard Binhammer has been at the centre of Dell's social media efforts from the outset. A key member of the Dell blogger outreach program, his comments, signed as RichardAtDell, appear across a broad range of blogs dealing with computing and social media. Recently, he stepped out front, launching his own blog, where he writes about corporate communications and social media relations.
Richard will be on hand at both Third Tuesday Ottawa and Third Tuesday Toronto to share the personal perspective he gained as one of the key players behind Dell's drive to learn about and adopt social media best practices.
A Personal Connection
I'm especially looking forward to these event because I have a personal connection to Richard. I'm one of the bloggers that RichardAtDell reached out to as part of Dell's blogger relations program.
Richard first made contact with me when I posted about a presentation that Robert Scoble made at a conference in September 2006. Within a couple hours of my post, I received a comment from RichardAtDell. That was the first of many comments, posts, shared links and emails that Richard exchanged with me about social media.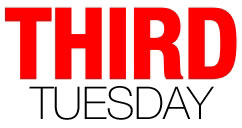 Last winter, I invited Richard and his colleague, Lionel Menchaca, the principal force behind Direct to Dell, to visit Canada to speak to Third Tuesday. Lionel made it to Toronto for Third Tuesday and the Mesh Conference. However, the first game of the Senators first Stanley Cup Playoff appearance was scheduled for the same night as his planned Ottawa appearance. Anyone who knows Canada knows that you don't compete with Stanley Cup fever in a hockey town. So, we had to cancel the Ottawa session.
However, when we cancelled the Third Tuesday Ottawa event, Richard was generous enough to indicate that he'd still make the trip at another date. Next week, he's making good on this promise – appearing not only at Third Tuesday Ottawa, but also Third Tuesday Toronto and the Canadian Institute's Conference on Social Media. On top of that, he'll speak to a combined CPRS/IABC Ottawa luncheon while he's here. That's a lot of work for one person over just three days. But that's also the way that Richard has approached social media. An all-in commitment.
So, if you're near Ottawa or Toronto Monday and Tuesday, don't miss this chance to meet and talk with RichardAtDell. Sign up to attend Third Tuesday Ottawa or to attend Third Tuesday Toronto.
Disclosure
My company, Thornley Fallis, has been using Dell computers since the company was founded in 1995. Today, we have Dell desktops, notebooks, servers, printers, and LCD projectors. I even bought a Dell LCD television for my family at Christmas last year. Dell's 24 hour support lines have has always been there for me when I needed help. So, when Dell offered Thornley Fallis a chance to compete for an assignment with Dell Canada this past summer, we jumped at it. And I'm happy to say that we won the competition. So, now I work for Dell. That's why I haven't mentioned Dell in any posts for several months. But with Richard's trip to Canada, I needed to post about his appearance at Third Tuesday. So, I thought I'd provide some of the background along with this disclosure. I hope that this meets an acceptable standard of transparency.

Thanks to our sponsors
And thank you again CNW Group for sponsoring these events. Your support lets us focus on programming great events without an admission fee.
Related Posts:
Jeremiah Owyang and Geoff Livingston chronicle Dell's social media saga
Jeff Jarvis updates the Dell story for Business Week. See also his original draft of the story.
Third Tuesday group on Facebook