Inside PR 437
Play Now
|
Play in Popup
|
Download
Twitter turns ten. Four tips for good writing. And a legal decision that brings nothing good to anyone.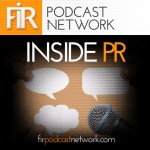 This week, on Inside PR 437, Gini Dietrich and I fly without Martin Waxman. But we'll all be back again next week. So, please come back.
This week's first #IPRMustKnow: Twitter turns ten. It changed communications for Gini and Joe – and it's still as relevant for us as it's ever been. There's been a lot of talk about Twitter being in trouble. And while it may not be meeting the venture capitalists' expectations, it meets our expectations for a useful tool that we use every day. But as we look back, we know that Twitter was a learned tool. Just take a look at the very different first Tweets that Martin, Gini and Joe published.
Gini was true to her form, using Twitter to try another tool:
First Twitter post-for me a bit like jumping into a cold lake. I've been standing on the shore for a while just contemplating. Here goes.

— Martin Waxman (@martinwaxman) September 1, 2008
And Martin was loquacious. Why waste a good communications opportunity?
Testing ping.fm

— Gini Dietrich (@ginidietrich) December 6, 2008
Finally, Joe was dry and matter of fact in his first tweet.
trying out twitter

— Joseph Thornley (@thornley) March 10, 2007
For our second #IPRMustKnow, we point to an article by Sylvia Stead, the Globe and Mail's Public Editor, warning against the four most common sources of mistakes by journalists. As Gini and Joe see it, these aren't just the source of errors for journalists, but also for any research-based writer. Stead suggests,
"…it's worth keeping these things in mind: 1. Stay focused. 2. Don't hurry. 3. Never assume you know. 4. Check one last time – especially names, numbers and factual statements."
Finally, Gini and Joe talk about the Jian Ghomeshi trial and verdict in Canada. Not an easy issue. One on which we all have views. And not something that Gini or Joe would go near.
This post was originally published on the Inside PR Podcast blog.