We live in times in which the volume has been turned up and the listening has stopped. In the wake of the US election, opposing camps have built polarized world views based on conflicting arrays of alternative facts.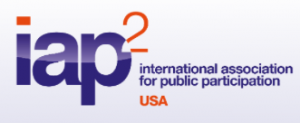 The members of the US chapter of the International Association for Public Participation (IAP2 USA) experience the disfunction of public discourse on a daily basis in their work promoting and facilitation public engagement with government.
Now, IAP2 USA is organizing a National Dialogue among its members and interested community groups to discuss the current environment for public participation. The dialogue will take the form of meetings across the summer culminating in a discussion at the IAP2's North American Conference in Denver in September.
IAP2 USA President Leah Jaramillo talked to me about the IAP2's National Dialogue initiative, its focus and objectives, its origins, where it will happen and its culmination at the IAP2 North American Conference in September.
Check out my full discussion with IAP2 USA President Leah Jaramillo on the Inside P2 podcast.