Thornley Fallis and 76design have a new President: Keelan Green.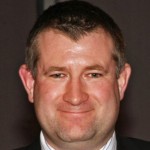 Keelan joined Thornley Fallis in 2002, just as the bottom was falling out of the tech industry. That was a tough time for the company. We shared our tech clients' pain. And it put great demands and strain on our team.  This was when Keelan first showed his mettle. If a client needed a tight turnaround on something for Monday morning, Keelan could be counted on the pitch in over the weekend. If a piece of work was good, he'd look at it and make the changes necessary for it to be great work. Keelan always looked beyond the process of the work to focus on the results. And clients loved him. They came to the firm to work with him and they stayed for more.
It wasn't just our clients who gravitated to Keelan. Even before he was appointed to a leadership position, other Thornley Fallis and 76design team members began to gather around him. After all, in a storm, you follow the person who you believe has a plan and the ability to get you home safely. That was Keelan from the start.

As time passed, we promoted Keelan through several positions. In every position, he excelled. As an Account Manager for some of our most important clients. As an Account Director and then as Vice President. And ultimately as Vice President and General Manager of the Ottawa offices of both Thornley Fallis and 76design.

In 2008, the economy entered recession. Keelan dug deep and brought our Ottawa office through the downturn with a minimum of bruises. As the economic free-fall ended and we hit the bottom of the cycle, he looked ahead and began to plan for the recovery. As a result of this leadership, our Ottawa office emerged from the recession stronger than it had entered it, with an expanded set of services and a larger client base. Growing out of a recession. It's something we all want to do. It's not easily done.
Now I'm asking Keelan to provide this type of leadership to the entire company. I'm delighted that he's accepted the challenge. And I'm looking forward to working with him as he conquers new challenges and leads Thornley Fallis and 76design on to ever better things.
Finally, this is the kind of announcement I really love to make. Not just because it's a good news announcement. But because it signals that we are being the kind of company we aspire to be – a company that attracts the very best people and then provides them with opportunities to grow personally and create a job they can truly be passionate about. Keelan's growth and success with Thornley Fallis and 76design is a brilliant example of this vision in action.
So, this is a great day for our company. A step ahead for Keelan Green and a chance to celebrate our values.