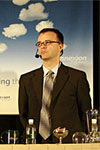 Darren Barefoot will open the Third Tuesday Toronto season on October 15.
Darren's 1100 Stacies presentation was one of the highlights of this year's Gnomedex conference. His message about building pyramids for good is a call to action that should be heard and heeded by technology folk everywhere.
Darren is a principal in tech marketing firm Capulet Communications. He's also a driving force behind the Northern Voice conference. Last year, he brought smiles to a lot of faces with Get a First Life.
Although he hails from Vancouver, Darren currently lives in Malta. He's one of the top notch line up of speakers at Profectio's Word Up! conference on October 16. But good guy that he is, Darren agreed to speak at Third Tuesday on the prior evening, October 15.
Register to attend Third Tuesday Toronto on October 15 to hear Darren. And the bonus is the great group of attendees who come out to these events. You're sure to find interesting conversation with others who share you passion for social media and community building.
Related content:
Darren's thoughts on his talk at Gnomedex
Video of Darren's Gnomedex presentation
Darren Barefoot talks about building pyramids for good