Charging for admission to Third Tuesday? Boy, did you ever give me a piece of your mind. I received some thoughtful advice on my blog, on Twitter and in person.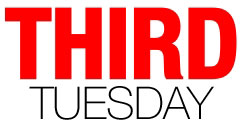 And, based on your responses, I'm going to modify our approach to admissions to Third Tuesday Toronto and Third Tuesday Ottawa. But that will come at the end of the post. First, I want to review what we did, what people told me, what actually happened at the event. Then I'll outline the new approach I hope to test at the next Third Tuesday. And finally, I'll talk about what I learned through this experience.
What I did
When I announced the June Third Tuesday Toronto and Third Tuesday Ottawa, I introduced a $10 admission charge.
In my blog post explaining the new admission fee, I pointed to the fact that, as Third Tuesdays became more popular, the number of people who registered to attend and then failed to show up at the event was sometimes in excess of 40%. This is a huge problem for people organizing a free event. We couldn't be sure what level of staff the venue organizers should have on hand, which is unfair to them. Even more important, other people who wanted to attend were sitting on a waiting list while people who had no intention of attending had taken all the available spots.
The folks at Meetup counsel event organizers to charge an admission fee. Looking at the experience of meetup organizers who use the Meetup.com site, they realized that even a small admission fee cut down dramatically on the number of no-shows.
So, I decided to implement a $10 admission fee.
What did people tell me?
The admission fee turned out to be a big deal for some people. And the discussion showed it was about much more than money.
Yes, some wondered if this is a cash grab. What would I do with the money?
Joe Boughner, for example, commented: "I'm also left wondering where the money is going; will there be a kitty to cover travel costs for out of town speakers or something?"
Several talked about the need to provide a break for students.
Malcolm Bastien argued: "One thing I hope groups of any size and industry take into consideration is the doors that the events open up to students. I couldn't be where I was today if Third Tuesday, Refresh, and Web Analytics Wednesday were not free. I probably would still be unemployed, would have made a lot fewer connections and friends, and they would not have been able to help my education. … So for students I hope all events keep it free, at 3+ events a month, at $10 a pop potentially, then it just becomes unfeasible for students to participate."
Eden Spodek commented: "Most people won't miss $10 if it turns out they can't make it in the end. Perhaps there's a way TTT can still provide some free spots (or sponsorship) for students, recent grads and unemployed members of the community."
Bonnie Dean echoed that sentiment: "I think Eden Spodek makes an excellent suggestion re: free spots to students, grads and those who are unemployed. If part of my $10 pays for someone else to attend who may not be able to afford it, I would have no problem with that."
David commented: "I think (in Ottawa) some of the best conversation are started by students, or "newly employed." I also think that part of the charm of the night is having a drink. Now our free or one drink night is now $15 to $20, which might not seem like a lot to some, but is a deal breaker to many."
Some people seemed to have decided to take a pass on Third Tuesday now that there is an admission fee.
Dan Hocking wrote in a post on his blog: "I'll be frank; this $10 fee that TTT is charging will ensure that unless the speaker is someone absolutely spectacular, I likely will not attend any future TTT events. This isn't a bad thing; I'm not the direct target market for these events, so maybe by not attending I'll help them get who they'd like."
Others expressed their opposition to the move in tweets (e.g. @dbast, @tariqalexander, and @rebeccablake.)
Some organizers of other community-based events chimed in saying they understood the move to an admission.
Justin Kozuch wrote a post about his experience mounting the Refresh Events, saying "Like Third Tuesday, we are seeing a large number (40-50%) of attendees registering for our events, and then not attending. While we certainly don't want to discourage people from coming out to our events, we also feel that those who register and then don't show up are preventing those who WANT to attend, but cannot because tickets are "sold out". It also causes us to spend additional money on refreshments based on attendee registration numbers, only to have those refreshments left over or consumed in great amounts by those attending."
Maggie Fox commented: "Very interesting that we've all come to the same conclusion at the same time; we're having the very same issue with the Toronto Girl Geek Dinners – when there's a speaker it tends to be better, but our last meetup was a simple mixer and only about 1/3 of those who registered showed up. … We're contemplating exactly the same move – and I think your logic is dead on."
Some people suggested alternatives to charging an admission fee.
Phil Barrett suggested: "Industry best practice for events is to allow 2.5 times the capacity for guest list. Every event has no shows… so if you only allow capacity to register, you will never fill each venue – even with a fee or a stellar lineup."
Susan Murphy offered: "Might I suggest that at least a part of people's contribution go to a charity? Further emphasizes the 'community' aspect and then it looks less like a cash grab." Stephen Clarke wondered, "why not introduce a "No-Show" policy which only charges those people who don't show?"
Max Cameron suggested: "How about, you reward people that show up consistently with a free-entry membership card, and if you register and no-show three times, you lose your free-attendance privileges. Sounds complex, but there's got to be a way to include a Carrot as well as a Stick."
Peter Childs suggested a similar approach: "An alternative approach would be to charge no-shows and to prevent them from registering at another event until the fee was paid. …Of course that approach requires more overhead – both at the event and in back end systems – but much of that could be automated through the same web technology we love so well."
Finally, some people tweeted or commented their understanding of, willingness to accept or support for the introduction of an admission fee. (e.g. @citymark, @jenmyhuynh, @rhh, @alexbrasil, and @shannonboudjema.)
What happened at the event?
The bottom line is that the introduction of an admission fee was very effective in reducing no-shows.
In Ottawa, we had only 5 no-shows. In Toronto, the number was higher. About 30 people who booked a place didn't show up. Still, that was a substantial reduction over the number of no-shows at last month's event (over 100 people who said they'd attend and then didn't bother to show up or cancel.)
And here's the telling point: Virtually every one of the no-shows this month in both cities were people who registered to attend but failed to pay in advance. Almost every single person who paid the $10 admission fee in advance actually attended.
So, what happens now? A break for students.
Community shouldn't be about majority rules. It should be about respecting and trying to accommodate everyone's point of view. So, while I take some comfort from the people who understood and supported the move, I'm also very sensitive to the views of those who don't agree with what I've done.
So, I'm going to make a change to the way we charge the admission fee.
We will provide a refund of the admission fee to any student who attends. (All they have to do is show us their student card and they'll get an instant refund.)
We will continue to charge a modest fee. The $10 fee did reduce the number of no-shows dramatically. And while several interesting alternatives were suggested, they all add a degree of complexity to the work of what is, after all, a volunteer-driven organization. The $10 fee is simple and effective. So, we'll keep it in place for now.
My pledge to keep Third Tuesday a not for profit community-based event
But, some ask, where is the money going?
Third Tuesday was conceived as a non-profit community-based event and I intend to keep it just that.
You have my pledge that every penny from admission fees will be reinvested in the Third Tuesday program – to help us bring in speakers, to pay for the cost of the venue, to ensure we have WiFi at the events.
Back to you
I'll keep reviewing this policy on an active basis. And if it's not serving its purpose, we'll change it.
Don't stop talking at me and with me. I want Third Tuesday to be our community. So, if I still don't have it right, let me know. And if I do have it right, don't hesitate to say so. These discussions are good. They show me that you care. And if you care, then Third Tuesday must be worth caring about.