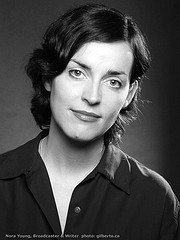 Nora Young is fascinated by how people adopt and apply technology in their lives. And she share her passion every week on CBC Radio One's Spark. In fact, the program has been so well received that the corporation recently announced that it will be lengthened to an hour in the autumn.
But Nora's Spark isn't just a radio program. It's also a much listened-to podcast that can be listened to at any time. And it's a blog which offers subscribers a chance to listen to complete undedited interviews that were shortened to fit into the broadcast program. Even more, it's a blog where Nora and the Sparks production team solicit community input on story ideas that they are developing. And of course, it's also a Twitter ID that Nora and her team use to tell people about what's happening with Spark and to have conversations with them.
Nora is truly the new generation of broadcaster. As the traditional model tumbles down, as newspapers are closed, as television stations are closed and as radio budgets are cut, one thing is for sure. Nora Young will be using the media that her community has migrated to.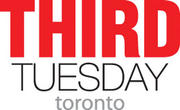 So, I'm really looking forward to Nora's appearance at Third Tuesday Toronto on June 23. She'll be sharing with us the lessons she's learned from her journey into social media. What were the bumps? How did she overcome them? What has been most successful? Where does she see things going in the future?
If you're interested in celebrating the potential of new media and talking with someone who is showing how to bridge traditional media and social media, I hope you'll join us on June 23. You can register online to attend Third Tuesday with Nora Young.
As always, I'd like to give a shoutout to our sponsors: Our founding sponsor, CNW Group has been joined by the Berkeley Heritage Event Venue to help us make this event possible. Thank you to our sponsors. We couldn't do Third Tuesday without you.