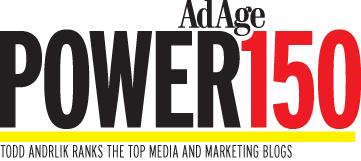 It was great to see many Canadian marketing and PR blogs show up on the AdAge Power150 developed by Todd Andrlik. The current list includes:
I have to confess that I was unfamiliar with some of these blogs. That's one of the good things about lists like the Power150. Whether you agree with the rankings or the methodology or even the implicit competition (who can really deny being tickled to be on a list like this?), these lists expose us not only to the well established, but also to new voices who are making a mark.
I'd never come across Adgoodness, CrapHammer or thefruitsofimagination. But, as a result of discovering them on the list, I've subscribed to each. So the time I spent looking at the Power150 has yielded the return of discovery of three new blogs. That's a pretty good ROI for a Sunday afternoon.