For the past year, Third Tuesday/Third Monday have provided the social media community in Toronto and Ottawa with a monthly opportunity to gather, hear from great speakers and talk about new developments in social media and social software.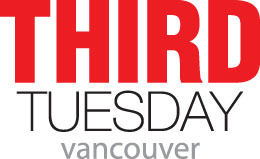 As we look forward to this autumn's season, we're hoping to start up a Third Tuesday in Vancouver. Vancouver has a great community of social media thought leaders and innovators. So, it's a natural for us to try to extend the events to Vancouver.
Several people, including Tod Maffin, Kate Trgovac, Tanya Davis, and Darren Barefoot (when he returns from his global jaunt) have said that they are willing to pitch in to make this happen.
I'll be in Vancouver next week on my way to Gnomedex. So, we're organizing a get-together to kick off the planning for the fall season. If you'd be willing to help with the organization of Third Tuesday Vancouver, we'd love to have you join us. Just leave a comment on this post or send an email to me and I'll send you the coordinates of our get together as soon as we've finalized it.
We'd also welcome your suggestions for topics and speakers. Please feel free to leave a comment or send an email with your ideas about what we should cover and who might speak to it.