Did you miss South by Southwest this year? Are you wondering what all the sound and fury actually amounted to?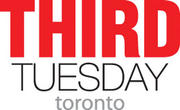 Now you can hear about what really mattered at SXSW from three social media leaders who were there. Keith McArthur, Dave Fleet, and Karen Geier have just returned from SXSW. And they've come back with stories to tell. What were the most promising and intriguing ideas they heard? What were the biggest fails? Where is social media going? What are the top trends we we should be looking for over the next year? What's hot? What's not?
Keith, Dave and Karen will share what they heard and learned at SXSW at the next Third Tuesday Toronto on March 29.
Register online to attend
If you're interested in participating, click over to the Third Tuesday Toronto meetup site and register online to attend.
Acknowledging Third Tuesday's sponsors
As always, I want to thank the sponsors of Third Tuesday: CNW Group, Rogers Communications, the Canadian Internet Registration Authority, Radian6 and Fairmont Hotels and Resorts. Thanks to these sponsors, we are able to program great speakers in cities across Canada, including Montreal, Toronto, Calgary, Vancouver and Ottawa.