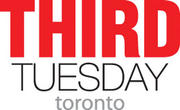 Registration is open for the Third Tuesday Measurement Matters #TTMM conference, to be held in Toronto on September 28.
A stellar roster of speakers
Attendees at Third Tuesday Measurement Matters will meet, hear from and participate in discussions with social media measurement experts, including Katie Paine, Carol Leaman, Ilya Grigorik, Charles Funk, Marcel LeBrun and David Alston (tentative), Sheldon Levine, Josh Hallett, Claude Théoret, Pragya Dubey, Scott Lake, Leona Hobbs, Darren Barefoot, Rob Clark, Brian Cugelman, Christopher Berry,  and Patrick Gladney.
A stellar lineup of speakers. And there are more who we anticipate will confirm their attendance during the next week.
A word about cost
The registration fee will be $125 per person. That's more than we charge for most Third Tuesday events. However, we have a full day's rental on the hall, audio visual system, lights plus a lunch and two breaks to provide food and beverage.
Our aim is to break even on the cost of staging the actual conference. And we'll do that with a combination of sponsorships and registrations.
We couldn't do it without the support of our sponsors
I hope you agree that this is one heck of a lot of conference for a fee that is far lower than you are used to paying. That's the value of being community-oriented – and of having sponsors. They cushion the risk of mounting an event like this.
And we couldn't do it without our sponsors. For the past year, we've been lucky to have some outstanding sponsors who have helped us to make this happen: CNW Group, Rogers Communications, MolsonCoors Canada, Radian6 and Fairmont Hotels and Resorts. You have stood by us. Your contributions make it possible for us to focus on organizing and programming without having to worry whether we'll be on the hook for hard costs. Thank you. Third Tuesday wouldn't happen without you.
Still to come: Free admission for a lucky group of students
Social media measurement should be an essential part of every communication, marketing and business curriculum. Students stand to benefit greatly by attending Third Tuesday Measurement Matters. But not all of them will be able to afford it.
So we'll be announcing a special zero admission fee for a lucky group of students. We're in the final stages of finalizing a sponsor for the "$0 student fee" and we'll make a separate announcement as soon as the details are worked out.
If you care about social media measurement
… this will be the conference of the year. So, I do hope that you'll consider attending.