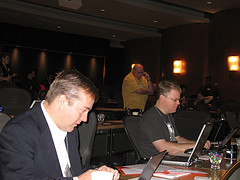 Robert Scoble and Jason Calacanis blogging side by side at the Blog Business Summit.
I wonder if they were writing about this?
JASON CALACANIS LAUNCHES NEW SHOW ON PODTECH NETWORK
PodTech and Calacanis pioneering media philanthropy with podcast channel sponsorships of over $100,000 donated to education

MENLO PARK, CALIFORNIA (October 26, 2006) PodTech Network announced today that a new audio and video podcast show, CalacanisCast, will be launched on the PodTech Network with GoDaddy.com as the founding sponsor. The weekly show will be hosted and produced by Jason Calacanis, CEO of Weblogs, Inc. (an AOL Company) and General Manager of Netscape.com (an AOL Company), and will focus on Jason's insights in new media and technology trends and those of his special guests. CalacanisCast launches with over $100,000 in first year sponsorships that will be donated to the Bay Ridge Preparatory School, a K-12 private school based in Brooklyn, New York.

Jason Calacanis said "I'm thrilled to have PodTech and GoDaddy.com as partners. We're going to have a fun time with the show, and help some kids in need at the same time. It doesn't get any better than that".

The media philanthropy model that the CalacanisCast show represents is a first example of a sustainable, high-quality media property that generates not only awareness, but monetary support, for philanthropic causes. Sponsorship revenue for CalacanisCast will underwrite the tuition of disadvantaged youth to attend Bay Ridge Prep, and represents the formation of the Bay Ridge Prep Opportunity Scholarship Fund.