I'm writing this post at 25,000 ft on board my return flight from the Ragan Strategic Public Relations Conference in Chicago. And I'm using Windows Live Writer Beta to do it. Just like I used Live Writer for all my posts from the Ragan Conference.
I usually write directly into WordPress. And I've been very happy with the WordPress Write screen. I've found that it gave me all the flexibility I needed.
However, in the past year, I've tried to Live blog the PRSA Counselors Academy Conference, IABC International Conference and now the Ragan Conference. At each one, the Wi Fi was spotty, working in some rooms but not in others.
At the earlier conferences, I composed my posts in Word and then pasted into NotePad to strip out any stray coding and then, finally pasted into WordPress to blog. And then I still needed to add links and insert images and pictures. What a time consuming process!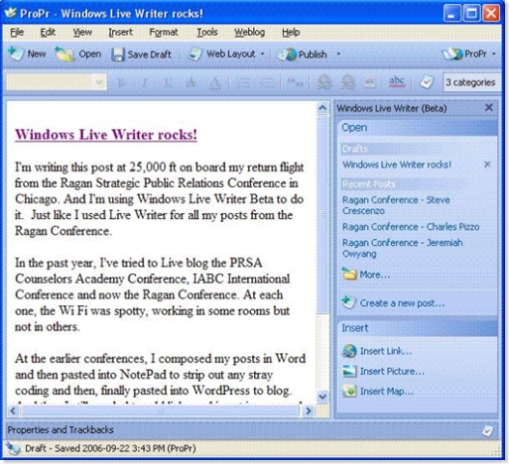 Enough of that! I decided to try an offline blogging platform at the Ragan Conference. So, I downloaded Windows Live Messenger Beta.
Wow!
A breeze to set up. I had no problems setting it up for both my external blog, ProPR and my internal company blog (accessible only behind our firewall.) It captured the different templates of each of my blogs and allows me to switch between them with a single click of a drop down menu.
And then I started to write with it. Even better! I found that it offered much more flexibility in handling images and quotes than the standard WordPress Write screen. I was able to add pictures and images while offline. And all of the text styles conformed exactly to my WordPress styles. It also captured my Categories so that I could add those offline. And it allowed me to prepare the framework for my posts in advance (picture of speaker, title, boilerplate description of topic), save the post and then open it for editing during the session with no need for wireless.
Great so far. But how about publishing? The best. One button publishing posted it to my Blog. It integrated perfectly into WordPress.
Bravo Microsoft. Windows Live Writer is a great application that does what it promises to do.