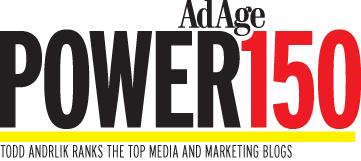 Last week, I wrote about the Canadian marketing, public relations and media bloggers who appear in the AdAge Power 150. Dino Demopoulos left a comment on that post pointing out that there are several other Canadian blogs moving up toward that ranking – including his own blog, Chroma, at #151.
Lists like this are very valuable for allowing us to discover new and up and coming voices. So, to help this, I'd like to point to the hard charging Canadians who appear in the Power 150 "Next 100."
I hope that you'll invest five minutes clicking over to some of these blogs. If you do, I'm sure you'll find new and engaging voices. And when you do, subscribe and join the conversation with them.
I said earlier that lists like this provide an opportunity to discover new voices. And in writing this post, I discovered some new blogs that I had not yet read. So, if my descriptions are a bit brief in a couple of instances, I apologize. But I've discovered and subscribed to all of these now and I'm looking forward to following each author through his/her voyage of discovery. I hope you'll join me in this.