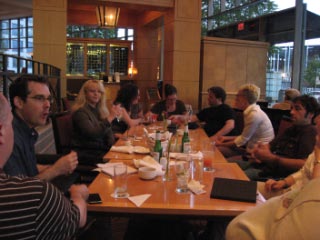 It looks like the Third Tuesday Vancouver social media series of monthly events is a go. A dozen social media folks came out Monday evening to discuss bringing the events to Vancouver. At the end of the evening, new friendships had been made and the group agreed to launch the series.
Just before leaving Vancouver, I grabbed a quick video interview with Tod Maffin talking about Third Tuesday in Vancouver. I'll post that as soon as I'm able to upload the video.
In the meantime, you can find out more by joining the Third Tuesday Facebook group or by joining the Third Tuesday Vancouver group on Meetup.com. Tod has also created a Google Group.
Thanks to Tod Maffin, Tanya Davis, Jacqueline Voci, Kate Trgovac, John Biehler, Christine Rondeau, Steve Palmer, Michelle Sullivan (on loan from Montreal for the summer), Allyson McGrane, and Shane Birley for coming out for the session. It was great meeting you. The discussion showed again just how vigorous Vancouver's social media community is.
I'm looking forward to coming out for Third Tuesday Vancouver sessions whenever I can make it to the west coast.