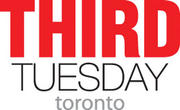 Where do you look for advice when you are considering whether to buy a product or service? If you're like me, you'll probably search for customer reviews on specialty Websites or, event better, you'll reach out to your online friends to find out who has experience with the product or service and what they think of it.
Customer reviews married to social media are changing the way that many people make decisions.
At the next Third Tuesday Toronto, four well-known entrepreneurs will share what they have learned building and working with customer reviews and social media. We'll hear from Ali De Bold, co-founder, ChickAdvisor Inc., Pema Hegan, co-founder, GigPark.com, Brian Sharwood, president, HomeStars.com, and Stuart MacDonald, CEO and founder, Tripharbour.ca and Tripharbor.com.
Special thanks go to Eden Spodek, founder of Bargainista.ca, who suggested this session and put the panel together. Eden also will moderate the discussion.
You can register online to attend Third Tuesday Toronto. I hope to see you there.
One more thing: As always, we're grateful for the ongoing support of our Third Tuesday sponsors: CNW Group, Molson Coors Canada, Rogers Communications, Radian6, and Fairmont Hotels and Resorts. Their support is allowing us to program great speakers not just in Toronto, but at Third Tuesday across Canada.