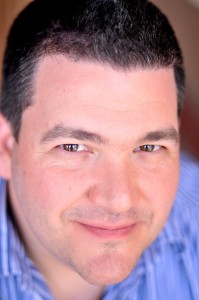 Here's some news that I hope you'll like: C.C. Chapman, co-author with Ann Handley, of Content Rules, is making a cross country tour of Third Tuesdays in January. C.C. will be at Third Tuesday Montreal on January 17, Third Tuesday Toronto on January 18, Third Tuesday Calgary on January 19 and Third Tuesday Vancouver on January 20.
What's Content Rules all about? In C.C.'s words:
Content Rules: How to Create the Right Kind of Stuff That Engages (Not Bores) Your Customers

Your brand is a publisher now. That's a frightening notion, perhaps, but it's also a tremendous opportunity. Blogs, YouTube, Facebook, Twitter, and other online platforms are giving organizations like yours an unprecedented opportunity to engage directly with your customers. So instead of creating awareness about your company or your brand solely the old-school way (through annoying people with advertising, or bugging them with direct mail, or interrupting them with whatever), you now have a rich and awesome alternative.

Now, thanks to the advent of the Internet and the rise of Web-based tools and technologies, you can create the kind

of web content, blog posts, videos, webinars, and web sites that will attract customers to you, rather than you chasing after them. What's more, you can entice your customers to share those stories with each other, all across the web.

Produce good stuff, and your customers will come to you. Produce great stuff, and your customers will share your story for you: Content is king! Content rules!
Read the book. Meet the author
And here's some more good news. When I told the folks at Kobo that we'd be having C.C. as our first speaker of the New Year, they made a point of ensuring that we can buy Content Rules as an ebook from Kobo. I love Kobo because, unlike Amazon, the books are available in the open ePub format and I can read them in the reader of my choice. So, if you're planning to attend, hop over to Kobo and buy Content Rules as an eBook. Or, if you still love the feel of bound paper, you can order a physical of Content Rules from Chapters. Either way, reading the book before you meet C.C. will add to your experience.
Thank you to our Sponsors
Finally, as always, I want to thank the Third Tuesday sponsors – CNW Group, Rogers Communications, Radian6 and Fairmont Hotels and Resorts. Their sponsorship for Third Tuesday makes it possible for us to bring great speakers like C.C. not only to Toronto, but to Third Tuesdays across the country. Thank you CNW, Rogers, Radian6 and Fairmont for helping us to build a vibrant community of social media practitioners.