Dave Fleet has earned a loyal following for his thoughtful and provocative posts on public relations and social media.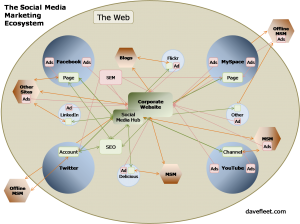 Recently, he wrote a couple of remarkable posts, the 2010 Social Media Marketing Ecosystem and  Strategies in the 2010 Social Media Marketing Ecosystem. Taken together, they present an up to the minute view of the range of communications channels that communicators must be aware of and integrate into our marketing programs.
Dave will be coming to Ottawa next week to speak at a day long conference. But we've grabbed him for a Third Tuesday the night before (yes, it's Third Tuesday on a Thursday.)
If you'd like to meet Dave Fleet and hear his thoughts on the Social Media Marketing Ecosystem, register online to attend Third Tuesday Ottawa.
Thank you to our sponsors
As always, I want to thank our Third Tuesday sponsors – CNW Group, Molson Coors Canada, Rogers Communications, Radian6 and Fairmont Hotels and Resorts. Their support make it possible to bring great speakers like Katie Paine, Julien Smith and Shel Israel to Third Tuesdays in Ottawa.