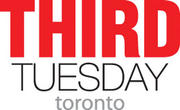 Are you interested in helping to organize Third Tuesday Toronto?
We're looking for people to help us with:
Managing logistics (arranging for the meeting location, sound system, lighting)
On-site registration (yes, we need people to greet and register people at the events)
Finding and booking speakers (Because we don't pay appearance fees to speakers, we rely on the networks of our organizers to be able to reach out to top notch people they know and persuade them to appear at Third Tuesday.
Soliciting sponsors (to cover the cost of speaker travel, sound and lighting, hall rental)
If you have the time and are prepared to help us with these tasks and the other work that goes into organizing Third Tuesday, then please register to attend our upcoming Organizers Only gathering.