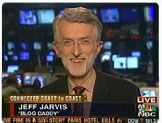 Jeff Jarvis launched his new book, Public Parts, in Canada last week at Third Tuesday Toronto #3TYYZ and Third Tuesday Ottawa #3TYOW. Judging from the participant reviews on the third Tuesday websites, Jeff presentation was one of the most popular and well-received presentations in six seasons of third Tuesday.
What people said
Stephen Da Cambra: really enjoyed Jeff's presentation. It appealed to me directly because of my own struggles with giving up my privacy on the web. Even high-profile guests can ramble on a bit – but Jeff was on point throughout, with enough short divergence to keep it interesting.
Rick Weiss: Jeff Jarvis was great. He's an engaging speaker and presented a lot of food for thought around privacy in the digital age.
Aggie Fortier: The speaker was very engaging with interesting examples to support his position. More importantly, Jarvis opened the door to discussion on the implications of public versus private. He has raised the bar for future speakers who follow.
Martin Waxman: Jeff Jarvis speaks the way he writes and is entertaining, provocative and insightful. Really enjoyed the talk; looking forward to reading the book.
Dave Fleet: Fascinating subject and a phenomenal speaker. One of the best presentations I've been to in a while.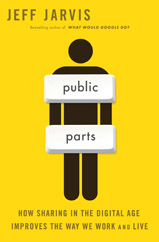 Jim Courtney: Really excellent introduction to and perspective on privacy issues. Loved the stories and historical perspective.
Nigel Newton: Jeff Jarvis is an evangelist for societal change enabled by the net. His generosity of spirit and his belief that we, the users of the net, are capable of respecting the ethics of privacy and public sharing is persuasive. If fear of technology is the primary emotion holding back the natural evolution of the net and its influence on society, then Jeff's well-crafted perspectives will be a source of courage for the faint-hearted.
Eden Spodek: Jeff Jarvis is a fantastic speaker and I would attend a Third Tuesday anytime he's invited here – even if he's not launching a new book. He brings the online privacy discussion to a whole new level and I enjoyed his insights on cultural differences and privacy. I can't wait to devour Public Parts.
Zach Klein: Great session. Super smart dude.
Mark Blevis: Jeff is an engaging and animated speaker. I really enjoyed this event. It was of high caliber. I could have happily listened for another two hours.
Alfred Coates: I really enjoyed how Mr. Jarvis's message of openness and sharing felt like a mix of opportunity and challenge to those in attendance. Mr. Jarvis speaks with passion and conviction and a healthy dose of humor. I will be reading public parts this weekend and working my way through Buzzmachine in the foreseeable future.
Karen Runtz: While many speakers may be entertaining at the time, what they say won't stick with you. That's not the case with Jeff Jarvis. I have his book for reinforcement! No, seriously, I did find his presentation memorable. It brought me in mind of the excitement I felt at a conference some 15 to 20 years ago hearing and Ithaca U prof talk about the changing nature of communications. She was encouraging us to think of our "products" as workable clay, instead of finished polished pieces sent on their way. That resonated with me, just as Jeff's words about the Internet did last night.
Read all the reviews
That's just a selection of the rave reviews for Jeff Jarvis's Public Parts presentation at third Tuesday. If you want to read the full set of reviews, you can find them at the Third Tuesday Ottawa and Third Tuesday Toronto event sites.
We are hoping that Jeff will be able to come back to Canada for third Tuesday Calgary and third Tuesday Vancouver in either January or February. And if you're in another city and are looking for a great speaker with thought-provoking content, Jeff Jarvis won't disappoint.
What others thought
Melanie Coulson, the online editor at the Ottawa Citizen blogged her impressions of Jeff's presentation.
Don Butler of the Ottawa Citizen also interviewed Jeff for an article which appeared in Saturday's edition of the newspaper.
Were you there?
If you were at the event and wrote about it, please leave a comment and post the link to your coverage.