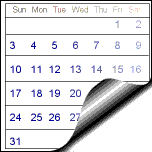 In the era of fragmented attention, we must publish content where our communities spend their time. That means that we must post content across a range of channels – blogs, Twitter, YouTube, Facebook, Google+, traditional newsletters and even media releases.
As I plan for the New Year, I'm wondering if there's a tool that I can use to help me manage my company team's publishing program. Ideally, this tool sould be collabrative to enable all team members to review it, add to and edit our editorial plan. It also should allow us to view content plans over time and to integrate real world events that we might want to note or cover.
Currently, I use the WordPress Editorial Calendar to plan what I will write about on my blog, Twitter and Google+. But I'm looking for something more sophisticated that can be used by a team publishing across media.
Lisa Gerber described the Editorial Calendar spreadsheet that she created in Excel to manage the editorial calendar of Spin Sucks Pro. I'm thinking of setting up an Excel spreadsheet along the lines of what Lisa has suggested. But Excel is an all-purpose tool that requires a lot of care and maintenance of the tool itself. I'd still prefer to find a good tool which someone else has created so that I can concentrate on my top priority – planning and managing our content creation and publishing process.
Do you use a dedicated tool to plan and manage your organization's editorial calendar? Would you recommend it for others to use?
UPDATE:
Thanks for Ali Symons (see her comment below), I've discovered DivvyHQ – which seems to be exactly the tool I'm looking for. I've set up a Beta account and I'm adding my team members now. We'll test it over the next month and then I'll report about our experience in a future post. (I'm adding an entry in DivvyHQ to remind myself to write that post on January 12.)