Are you interested in the business of PR? Then, you'll want to listen to this week's Inside PR podcast.
Late last night, the news broke on Twitter that two Canadian PR agencies, Montreal-based Communications MECA and Toronto-based Palette PR, have sealed a deal to merge in a new firm, EnergiPR.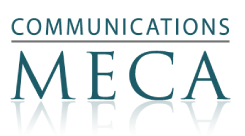 I had the good luck to be at a breakfast meeting this morning with Esther Buchsbaum and Carol Levine, the principals of MECA. They agreed to step out of the room for an interview about the merger, their motivation in doing it and how they made it happen.

By coincidence, the next edition of the Inside PR podcast was due to be published today. And both of my co-hosts, Gini Dietrich and Martin Waxman, were unable to participate in this week's edition. So, I lucked out. At the last minute, I found the content for this week's Inside PR – and I was able to offer the first interview with the principals in the new firm.
OK. Now, how's this for burying the lead? The other principal in the newly merged firm is none other than the very Martin Waxman who co-hosts Inside PR.
Listen to today's Inside PR podcast for the first news of the merger. And tune in again next week when Martin will be back behind the microphone and will add his perspective.