On June 12, I'll be moderating a session at From Mass to Grass, the Canadian Marketing Association's annual Word of Mouth Conference.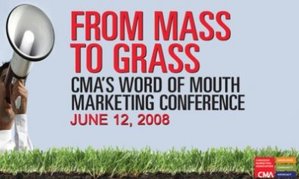 This looks to be a great day packed with some of Canada's top experts on word of mouth marketing and social media. Sean Moffitt, the Chair of the conference has a post with a rundown of the speakers and sessions.
And if you join the From Mass to Grass Facebook Group by May 1, you will receive a $50 discount off the registration fee for the conference.
I'm looking forward to hearing and spending time with the outstanding lineup of speakers that Sean and the program committee have booked for this year's conference. Sean tells us that the roster includes:
– Richard Bartrem, Westjet's VP  Culture & Communications – our moning keynpote talking about "Caring Owners – Driving Word of Mouth Through Employee Empowerment and Enagagement"
– David Usher, award-winning musician and entertainment social media participant and resident expert in a segment called "Behind the Music"
– Douglas Rushkoff – Narrative Lab Founder, award-winning docuumentarian ("Merchants of Cool" and "The Persuaders"), author (Media Virus and Get Back in the Box) and new media expert
– Julie Cole & Tricia Mumby, Founders- Mabel's Labels "Word of Mouth Works in the Mama Market" – and their amazing Canadian grassroots success changing the way we think about  and market to mommies
– Chris Matthews, Specialized Bikes – Vigilante Organization – Global Efforts in Building brand Awesomeness and a Sense of Brand Community – a guide for large companies on how to evoke the passion of your customer base regardless of your size
– Jim Button, VP Marketing, Big Rock Brewery – tales of great craft beer community tapping word of mouth building from its grassroots headquarters in Calgary
– Su McVey, VP, Marketing Planning, TD Bank Financial Group– changing the face on how banks market to their audiences
– Scott Brooks, Chief Evangelist and Co-Founder, ConceptShare – kickass BtB success and the power of testimonials built from of all places, Sudbury, the new hotbed for collaborative creative building
– Mike McDerment, Co-Founder and CEO, Freshbooks – an extraordinary story of a bootstrapping Canadian company turned global success that has taken the pain out of accounting and invoicing clients
– William Azaroff, VanCity – a not-for-profit example of what you can do when you say "yes we can", the triple bottom line success of VanCity credit union and a webby award nominee sponsored social network "Change Everything"
– Deborah Kaplan, Executive Director, Zerofootprint – for those that have been sleeping, "Green is in" – learn how Zerofootprint is enabling companies to change and buzz about their green credentials
– Malcolm Roberts, President, Smith Roberts Creative Communications – the mastermind behind the United Chruch of Canada's "Wonder Cafe" and Ontario Colleges "Obay" teaser campaign
– Ross Buchanan, Director, Molson Coors Relationship Marketing – how Canada's iconic beer company makes successful forays into word of mouth worlds and watchouts for those who tread there too
– Dan Hunter, Partner, IMI International – yes, you can measure word of mouth and what a bounce you can get vs. the traditional stuff, Dan shows you how
– Dave Balter, President, BzzAgent – one of WOM's pioneers demonstrates the ironclad argument for the ROI on word of mouth
A great lineup. I hope that I'll see you there. And remember to register before May 1 to obtain the $50 discount.