We live in a Google world. Google Search. Google Reader. Google Maps. GMail, Google Translate, Google Docs, Blogger. Android. Chrome. Google News. Google seems to reach into every aspect of our online lives.
But will it stay that way? If there is one constant on the Internet, it is the inevitability of change. And that's not just change in technology. That's change in how we use it, how we relate to one another, how we see institutions and our expectations of them. What we find useful today we might not find useful tomorrow.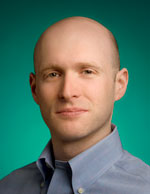 Our next speaker at Third Tuesday Ottawa will be Jacob Glick, Senior Policy Counsel at Google. This role at Google gives him a unique perspective on many of the most important issues that will shape the continuing evolution of the Internet and how Google itself is evolving to maintain its relevance and to live up to its slogan, "Don't be evil."
I'm very much looking forward to the discussion that I know Jacob will prompt. It should be a good one.
Register online to attend
If you're interested in participating, click over to the Third Tuesday Ottawa meetup site and register online to attend.
Acknowledging Third Tuesday's sponsors
As always, I want to thank the sponsors of Third Tuesday: CNW Group, Rogers Communications, the Canadian Internet Registration Authority, Radian6 and Fairmont Hotels and Resorts. Thanks to these sponsors, we are able to program great speakers in cities across Canada, including Montreal, Toronto, Calgary, Vancouver and Ottawa.