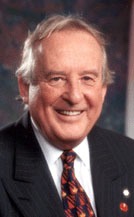 Sad news today: Laurier LaPierre, Canadian broadcast icon and former Canadian Senator, has passed away.
I met Laurier when we worked together on Sheila Copps' unsuccessful campaign for the leadership of the Liberal Party of Canada. Laurier may have been fighting for a lost cause, but he did it with enthusiasm, generosity and the highest principles.
It was an honour to have known him. And a true delight to have spent time with him.
—————–
For a perspective on Laurier LaPierre's contribution to journalism, read Cecil Rossner's Grilling the Guest – Laurier LaPierre and the Host Seat Interview on the Canadian Journalism Project blog.