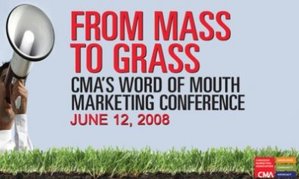 The CMA's Word of Mouth Conference kicks off tomorrow morning in Toronto. I'm really looking forward to moderating a panel on Ethics of Word of Mouth with Malcolm Roberts , President, Smith Roberts Creative Communications and Ross Buchanan, Director, Digital & Relationship Marketing, Molson Canada . We've had a preconference discussion and I know that Malcolm and Ross are ready to be thoughtful and provocative in leading this discussion.
But just as much, I'm looking forward to all the other great speakers who conference chairman Sean Moffitt has lined up.
If you're planning to be at the conference and you see me there, please grab me by the arm and say hello.
LAST MINUTE BONUS: Sean has offered me the opportunity to invite a some of my colleagues to register at a $50 discount. I'd like to share this offer with my blog community. If you read this post and register today to attend the conference, let me know and I'll arrange for the $50 discount to be applied to your registration.