Government has been much slower than business to adopt social media tools and practices.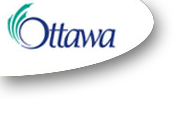 Now, the Mayor of Ottawa is aiming to make Canada's capital city's government a model for e-government by embracing and adopting Web 2.0 technologies. To help him do this, Mayor Larry O'Brien established a Mayor's Task Force on eGovernment, chaired by Rob Collins, a former CIO of Business Intelligence software company Cognos.
Before entering politics, Mayor O'Brien was a high tech entrepreneur and founder and former CEO of Calian. So, he knows technology and should have a sophisticated understanding of its potential.
In announcing Rob Collins' appointment, Mayor O'Brien said,
Our community is a global technology hub, and our citizens expect more service online.

We will take advantage of new Internet technologies, such as Web 2.0. We will move beyond simply publishing information online and begin to interact online with the public we serve.
That screams social media to me. RSS feeds to enable citizens to subscribe to information by neighbourhood or topics that mean the most to them. Blogs from city departments offering information and updates about programs and the opportunity for people to provide feedback. Flickr photos and youTube videos of important meetings, proposed developments and plans and major announcements. And maybe even Twitter feeds from important departments like snow clearing, electricity services, police and fire that tell people what is happening at times of emergency.
Unfortunately, the task force's written mandate, released weeks after the Mayor's announcement, seems to provide the committee a fairly narrow scope. The detailed mandate that has been posted on the City of Ottawa's Website states that the task forces will:
Review available IT options;
Review requirements and opportunities for all areas of the city and assess an appropriate role for information technology;
Solicit input from internal IT providers and users;
Examine the City of Ottawa's current Information Technology Plan and all current or proposed projects;
Make recommendations (short-, medium-, and long-term) for development of an information technology plan that improves interaction with the public while increasing the effectiveness and efficiency of city operations.
Where are the citizens in these terms of reference? It appears that the consultations will be entirely inward looking, dealing with internal IT providers (vendors?) and users.
I hope that I've missread the terms and that the Task Force does intend to consult citizens on how they would like to connect with their government online. It would be a pity if they missed this opportunity.
To help encourage this, I'm inviting Rob Collins to be our guest at a special Third Tuesday social media meetup. This would provide him with an opportunity to gather ideas and input from the people in Ottawa who are exploring and using social media. I hope he accepts this invitation.