When it comes to social media, it's a mobile world. It's a long time since social media resided primarily in our browser or in applications on our desktop. Today, our social media connections are rarely farther away than the device we carry in the palm of our hands – our cell phones.
RIM – Research in Motion – is the Canadian standard bearer in the mobile device wars and Canada's leading technology hope. As social media has evolved and as apps have moved onto mobile devices, RIM has been challenged to evolve its own approach. And we're seeing it do this. Earlier this year, RIM introduced a new operating system with embedded social features along with the Torch, a new generation of BlackBerry that combines a large touchscreen display with a slide out keyboard. In the new year, we'll see the Playbook, RIM's tablet offering.
As RIM evolves its platform, it's also using social media to reach out to its users and engage with them in online community and social media. Michelle Kostya is one of the people charting out RIM's path in social media. And she's our next speaker at Third Tuesday.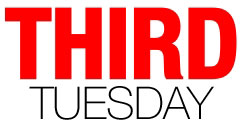 You can register online to join us December 6 at Third Tuesday Ottawa or December 7 at Third Tuesday Toronto to hear Michelle talk about how Research in Motion uses social media and how it views the future of social on its platform.
Thank you to our sponsors.
Once again, I'd like to thank our sponsors – CNW Group, Rogers Communications, Radian6, and Fairmont Hotels and Resorts. Your sponsorship makes it possible for us to bring great speakers to Third Tuesdays across the country, including Toronto, Ottawa, Montreal, Calgary and Vancouver. You make third Tuesday a truly Canadian affair.