If you follow me on Twitter, then you know that I endured a serious case of #VistaFail. Microsoft Windows Vista began to install a service pack on my notebook – and then it crashed. And it kept crashing. Ultimately, I was forced to reinstall the operating system, losing data in the process. (This happened while I was on the road and unable to back up my data.) Then, the ultimate insult. The morning after I got my computer up and running, as I was shutting it down to leave my hotel room, I received another unasked-for message that Windows was installing updates. Not just one update, but 32 updates. And, as always, the helpful onscreen message warned me not to shut down my machine.

Enough is enough. Happily, this last #VistaFail occurred on the morning of October 22 – the day that Windows 7 went on sale. So, I took myself off to the nearest Future Shop and bought two copies of Windows 7 – one for my notebook and one for my desktop (Did I mention that my desktop also was struggling to install the same set of patches?)
So, now I've been living with Windows 7 for several days. And I'd like to share what I think of it.
The Good
Wow. I love the new Task Bar. The Windows 7 version of the Task Bar allows me to pin to it the programs that I use most frequently. And instead of individual icons for each open document, I see only the program icons. If I want to see individual documents, I only have to hover my cursor over the program icon in the taskbar. A popup window appears above the icon showing miniature versions of each open document. Hover over a miniature version and it appears full size on your display. Click on it and it opens for editing. With the new Windows 7 Taskbar, all my favourite programs and open documents are right there where I can see them.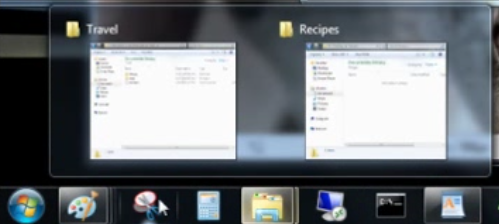 Windows 7 is fast. Much faster than Vista. This shows up when I boot up. But it is much more dramatic when I open programs like iTunes. With Vista, it could take as much as a minute when I plugged my iPhone into my PC before iTunes opened. With Vista, it now takes less than 5 seconds. Goodbye time wasted waiting for tasks to complete.
Finding files and programs. Windows 7 search function is vastly improved over earlier versions of Windows. Want to change opening folders and files to single click from double click, but you can't find the right place to do this in Control Panel?  Simply search the term "single click" in the Start button search and you'll be provided with a link directly to the Folder Options screen in which you can make this change.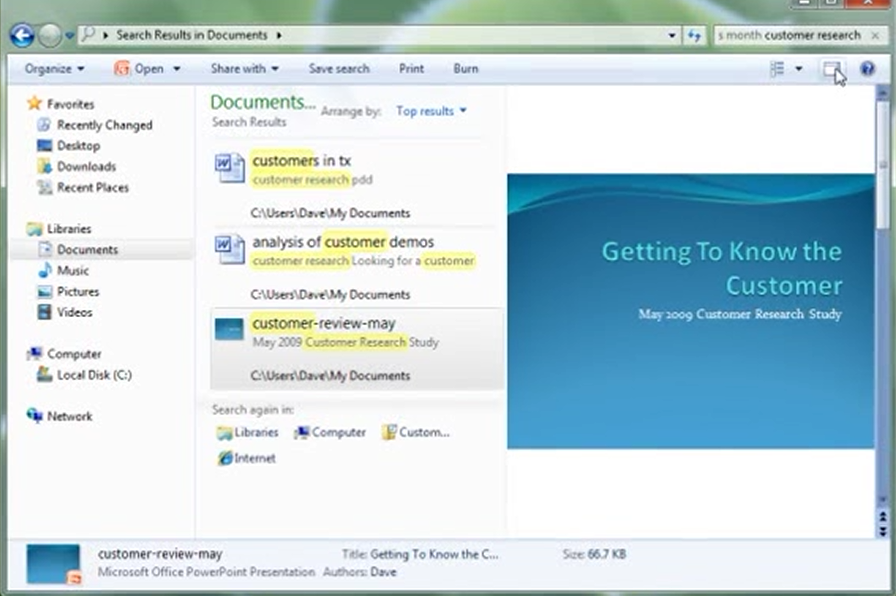 Even better, Windows 7 makes it much more simple to find files spread across folders on your hard disk and on external hard drives. They've added "libraries"' of your documents, music, pictures and videos. What's the difference between a library and a folder? A library will display documents, pictures, music or vidoes that you have saved anywhere on your computer. Want to add the contents of an external hard disk to be displayed in your libraries?  You can easily add a folder to a library from a drop down menu in the folder. Find your files easily regardless of where you stored them.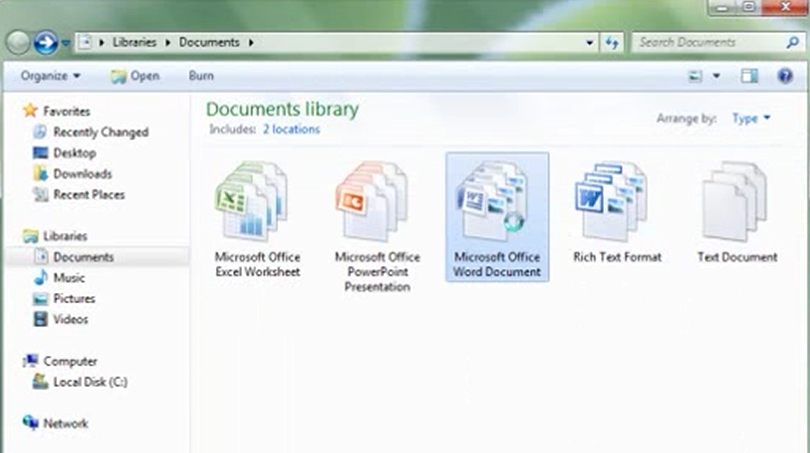 Home Networking is made easy with Windows 7. A new feature, HomeGroup, enables any user to set up a home network to share folders, files and printers with other users. A very nice, overdue feature.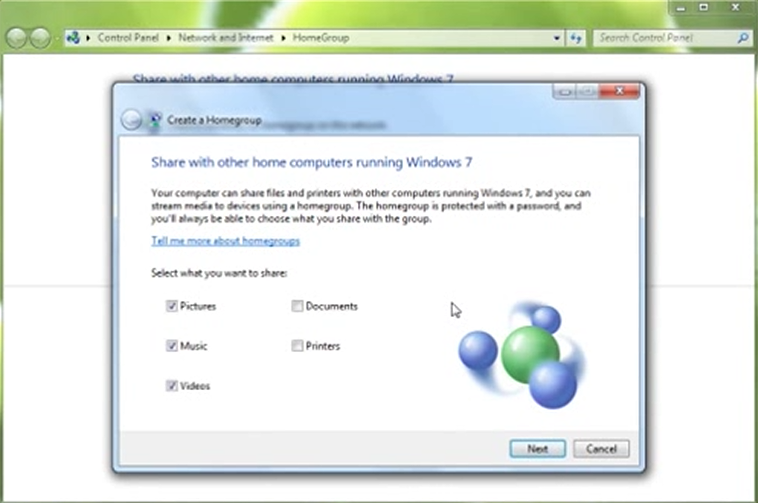 The Not So Good
I discovered that I couldn't do a simple upgrade from Vista Ultimate to Windows 7 Professional. I had to do a much more time consuming clean install of Windows 7. More time consuming because I had to restore all my drivers and reinstall all my applications. That was a full day lost. I can't understand why a simple upgrade from Vista Ultimate to Windows 7 Professional isn't possible. The only advertised differences between Windows 7 Professional and Ultimate is that the latter offers Bitlocker data encryption and the ability to switch between 35 languages. I don't need either of those features. So, I purchased Windows 7 Professional. It wasn't until I had the disk in my computer hard drive that I received a message that I couldn't upgrade from Vista Ultimate to Windows 7 Professional. My first #Windows7Fail. Another Microsoft "Gotcha."
Once I'd installed Windows 7, it turned out that Windows 7 drivers are not yet available for each of my Dell computers. The Dell download site offered Windows 7 drivers for my enterprise-class Latitude E 6400. However, it did not yet have Windows 7 downloads for my Vostro 400 desktop. Given that the Vostro line is targeted at small businesses that don't have dedicated IT departments, that was disappointing. Hopefully, Dell soon will offer drivers for the entire Vostro line.
Home networking. My home computer is on my office domain. And Windows 7 won't allow me to set up a home network with other users in my family. Instead, I'll have to ask my son or daughter to  so that I can access files and printers remotely.
The Bottom Line
If Windows Vista is your current operating system, run, don't walk, to your nearest store and get a copy of Windows 7. If you're still using Windows XP, I think that you'll find the user experience of Windows 7 more than justifies the upgrade.
Bonus Tip
The experience of using Windows 7 is quite different from Windows XP and Vista. You can start using it straight out of the box and discover new features serendipitously. But you don't need to do this. Microsoft offers an outstanding set of introductory videos. I found several particlarly helpful, especially
Getting Started for tips on how to use the new Taskbar, the "jumplists" of recently or frequently opened files, and how to easily arranged windows to take all or half of your display space.
Find your files for tips on how to use Libraries and Search to quickly find files and programs.
Sharing files with HomeGroup to see how easy it is to set up a home network and share files and printers.
What's your experience with Windows 7?
Are you using Windows 7? What's your experience with it? Are there features you're finding useful? Are you encountering problems? Share your experience by leaving a comment.