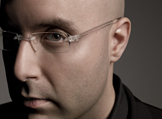 Mitch Joel is bringing his Six Pixels of Separation podcasting and blogging goodness to the Third Tuesday Ottawa social media meetup.
Mitch will kick off this year's Third Tuesday Ottawa season on September 25. Be ready to share in the latest thinking about marketing, social media and web 2.0. Mitch is always interesting and thought provoking.
Mitch is in Ottawa to deliver an all day IAB Canada course on social media and Web 2.0. Happily for us, Mitch is genuinely committed to developing Canada's social media community and skills. So, he agreed to spend the evening before his course with us.

Join us on September 25 to meet, listen to and talk with Mitch Joel. I can guarantee you'll learn something new and you'll meet one heck of a solid, gregarious guy.
Click over to the free registration on the Third Tuesday Ottawa Social Media Meetup group.
After you've registered to attend, visit the Third Tuesday Facebook group and join other social media enthusiasts from across Canada as we build our community.
Posts about previous Third Tuesdays: