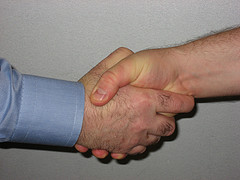 The success of the relationship between a client and a public relations firm can be predetermined by the expectations they establish at the outset. Having realistic and achievable expectations is an essential building block of strong relationships.
In this week's Inside PR podcast, Terry Fallis and David Jones suggest five questions that a prospective client should ask a PR firm in order to determine if their fit is right. These five questions are:
Who will be on the account team and who will be the day to day account manager?
Where will my account rank in magnitude of billings among all your clients? Will my account be a small, medium or large account for your firm?
Do you invest in your client relationships and how do you do this?
What is the turnover rate among your consulting team? How stable is your team?
What are your billing policies and your ethics policies?
Terry's and David's excellent discussion of this topic can be found in Inside PR #37. Worthwhile listening for both public relations consultants and prospective clients of PR firms.