Shel Israel and Kami Huyse tagged me in the five secrets meme. Normally, I don't give out secrets about myself. But, hey, it's Shel and Kami who asked. So, I've just gotta stand up and salute.
1) I worked my way through university playing keyboards (Hammond organ, Fender electric piano and Leslie amplifier) in cover bands. The bands were good. I was the weak link in each one. But heck, we had a lot of fun and it paid the bills.
2) I grew up on British sports cars. I initially owned a Triumph Spitfire and then an MGB. After I rolled the MGB (and lived to talk about it), I opted for the TR7. It had a hard top. Because of my love for British cars, I soon learned what wiring smelled like when it shorted and I became very familiar with the inside of garages and mechanics' bills.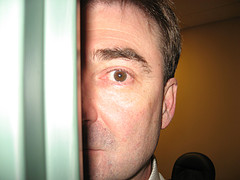 3) I learned my first hard lesson in media relations at the 1978 Liberal Party National Convention. I was the President of the Young Liberals of Canada that year and, as was expected of Young Liberals, we sponsored a policy resolution calling for the decriminalization of marijuana. It was a slow news day and one reporter, Doug Small of Canadian Press, kept asking me whether I was supporting the resolution because I smoked marijuana myself. I dodged him through the day. But late at night in the hospitality suites, he grabbed me again. I was pretty taken by the fact that a nationally known reporter kept talking to me, so I gave him a smart alec comment that "I wouldn't want my mother to know." Yep. You guessed it. The headline on page one of my hometown newspaper the next day was "Young Liberal President smokes pot; doesn't want his mother to know."
4) The first record I ever owned was The Last Time by The Rolling Stones. I preferred the Stones to the Beatles. Street smart vs. pop.
5) My middle name is Lloyd. And yes, I took a lot of school year teasing over that one.
So, there you have it. Five things you didn't know about Joe Thornley. And probably don't care to know.
Now, to pass it on. I hope that Jeremiah Owyang, Shel Holtz, Josh Hallett, Tod Maffin, and Michael O'Connor Clarke will share with us five secrets about themselves.