This is a week of change for Thornley Fallis and our family of bloggers.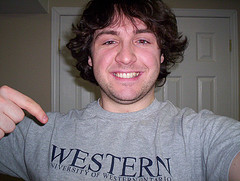 Student PR's Chris Clarke is leaving us to see what another organization has to teach him.
When Chris joined us in May 2006, we were still relatively new to blogging and social media. Thornley Fallis had just over a year of experience with Wikis and blogs. Pro PR was still less than a year old. And Chris had been posting for about three months at Student PR.
During his time with us, Chris was one of the founding organizers of Third Tuesday Toronto. He also took up the task of producing Inside PR. And he shared his learning experiences through his blog. His posts were often provocative, sometimes controversial, but always worth reading.
Of course, even if his day job will be on the other side of town, Chris will never be more than a click away from us here at Thornley Fallis. Chris' Student PR blog will move from Our Community to TF Alumni on the ProPR and Thornley Fallis sidebar. I know I'll continue to subscribe to his blog and comment on it. And I'm counting on Chris to continue as one of the founding organizers of Third Tuesday Toronto.
I was proud to have Chris Clarke as a member of the Thornley Fallis team. And while he's leaving us for another day job, he'll continue to be part of our social media community. And a friend.
So, here's wishing good luck to you, Chris. It's been a great experience. I've learned a lot by working alongside you. And I've enjoyed it from beginning to end. May the future bring you only success and happiness.
UPDATE: Chris has posted about his plans post-Thornley Fallis.