What do Darren Barefoot, David Jones, Danielle Donders and I have in common?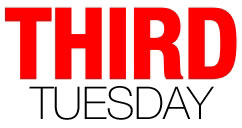 We're speaking at the Third Tuesday social media meetups this week.
If you're interested in social media and its impact on communication, marketing, community building and society and you'd like to get together with others who share this interest, register to attend Third Tuesday in Toronto, Ottawa or Vancouver. And while you're at it, why not join the Third Tuesday Facebook group to participate in the discussion before and after the sessions.
Third Tuesdays are community driven free events organized by volunteers with support from CNW Group, who underwrite the cost of presentation equipment and venue fees, and Society for New Communications Research. Thank you to both our sponsors. Your help to make these events is greatly appreciated.
Want to learn more about this month's Third Tuesdays? Follow these links:
Third Tuesday Ottawa gets Postcards from the Mothership
Darren Barefoot launches Third Tuesday Toronto season
Third Tuesday in bigger and better in Vancouver