Blogger and author Jackie Huba was the keynote speaker at the CMA Word of Mouth Marketing Conference in Toronto this morning.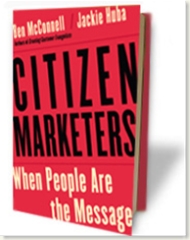 According to Huba, we live in an "amateur culture" in which consumers can, for little or no cost, produce content that shapes our brand image. These amateurs are pre-empting the traditional business model. Huba and her co-author, Ben McConnell, call these people Citizen Marketers.
This amateur culture has been empowered by ubiquitous technology like camera phones married with social media. Everyone can be a broadcaster. Anyone with a microphone and computer can produce and post their own podcasts. Anyone can upload pictures to flickr and video to Youtube.
And as people produce more and more of this content, it has gained influence.
Huba and McConnell have classified citizen marketers into the "4Fs":
Firecrackers: People like George Masters and Brian Finkelstein. They create an explosive impact, a great deal of noise. They can have tremendous impact on brands – either positive in the case of Masters and the iPod or negative in the case of Finkelstein and Comcast.
Filters: These people are brand journalists. They have an overriding passon for a brand and they follow it incessantly. Mike Kaltschnee demonstrated the lasting impact on the Netflix brand that a group like this can have. Companies concerned about their brands should pay attention to and work with this group.
Fanatics: These people take the Filters one step further in their zeal for something. For example, Eric Karkovack had a passion for Surge. When Coca Cola eliminated the brand, he campaigned through savesurge.org for the return of the drink. He didn't succeed. But when Coke began to test a new drink, Vault, Karkovack and others noted that its taste was very similar to Surge's. He launched vaultkicks.org, a fan site for the new drink. Coke cooperated with him. And vaultkicks.org is the first Google search result for Surge soda. The fanatic has taken control of the brand online.
Facilitators: This is the most complex group in what they do. Paul Mullett with his mini2.com site is a good example of this type of person. BMW gave Mullett an advance peek at the second generation new mini prior to its launch in mid 2006. Mullett subseqently published photos, reviews and information about the second generation mini. And he reached a targeted audience interested in the mini with his message. On his own. At no cost to BMW. A marketers dream!
So, how are marketers starting to embrace these citizen marketers?
By working with these marketers to co-create content around a product or brand. For example, the Shakira fan video contest in cooperation between Youtube and Shaikira's label helped reinvigorate the marketing around Shakira's new album, which had until that point, failed to meet sales expectations.
By building community. Discovery, through its Discover Education subdivision and its United Streaming product, helps teachers to obtain valuable teaching content. Discovery created the Discovery Education Network to provide a focal point for teacher evangelists who wanted to use the product.
By Participation – The fifth P: Social media allows marketers to connect directly with customers.
The big question that all marketers should be asking themselves is how they can bring customers into their creative and brand process. If they can find ways to do this, they will inspire greater identification and loyalty for products. And that's worth working for.