Macleans political columnist Paul Wells never hesitates to weigh in with a trenchant comment or a jab at those who he feels need to be called out. And this makes him one of the more entertaining political bloggers. And he seems to be given free rein by the good folks at Macleans to take runs at just about anyone.
But has Paul met his match – in the IT Department at Rogers?
My feedreader picked up the following post:
Welcome, friends!

by Paul Wells

The good news is that, as part of the new bigger Rogers family, all A- Channel employees will be permitted to write blogs with atrocious software on un-navigable websites that will never, ever improve. Because that's what working for Rogers offers us all. No, don't thank us!
Well, interesting, I thought. Paul's really biting the hand this time.
So, I wandered over to Inkless Wells to look at the original post … and guess what? It's not there!
Yes, the headling, "Welcome, friends" appears. But when you click on the headline for the post, the following message appears where the text of the post would appear:
There are no entries at this time. Check back soon.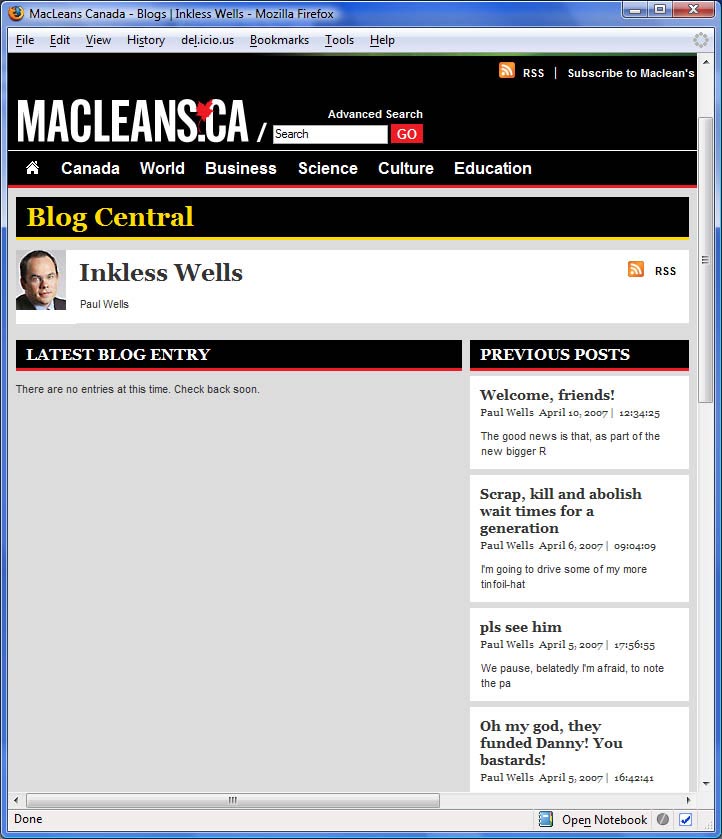 Only for this post. Click on the headline of any other post and you'll see the full text of the post associated with that headline.
Has the IT Department at Rogers managed to do something that Prime Ministers, Deputy Ministers and politicians of every stripe have long wished they could do – muzzle Paul?
Now we know where real power resides.