Mark Blevis and Bob Goyetche kicked off Podcasters Across Borders with a podcasting basics session. I'm a beginner podcaster and the guys provided me with an overview of what I need to get started.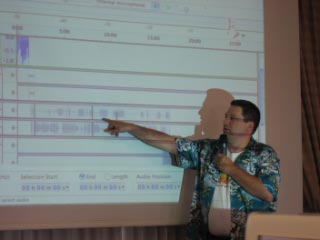 Basic equipment
The MXL 990 microphone is a good starter mic. Cost: About $150.
Add a pop screen to suppress the popping of your 'P's. Cost: $25 to $50.
Add a mixer will enable you to tailor your sound. Tod Maffin uses a Behrenger Eurorack 1002. Cost: $150.
You can mix either directly into your PC or into a recorder. The Samson Zoom H4 portable recorder is a good choice. Cost: About $400.
If you record directly into a computer, Apples come with GarageBand built in. PC users can download the FREE open source Audacity audio editor and recorder. Cost: Free
Cleaning the sound
SoundSoap 2 will help to filter extraneous noise. Cost: $130
Content
That's up to me. Yikes!