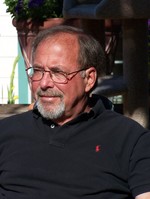 Recently, Shel Israel, co-author of Naked Conversations, was commissioned by SAP to conduct a study of the state of social media around the world. Shel explains it this way:
Here's what I am doing. I am trying to answer a single, overwhelming question: "What is going on in the world with regard to social media? I am looking for useful statistics, but those are often outdated before they are published as we learned with the book.

Mostly I am looking for real people with stories and personal experience about what is happening with blogging, video, online communities and assorted conversational media. I'd like to get some anecdotal granularity on why blogging is taking off in Poland these days, or how social media behavior is different in Italy than it is in Russia and Canada.
Shel sent me his questionnaire just before I left for vacation. It was a good vacation and I didn't do much of anything, including Shel's questionnaire. So, now I'm about to start. And I'd like the social media community in Canada to have a go at the answers with me.
Here are the questions that Shel put to me.
You are very much in touch with social media in the US and Canada. How would you describe the similarities and differences of the social media evolution in the two countries?
The journalist Mark Evans has written often about how slow Canada's business has been to adopt to blogging and social media. Do you agree with him? If you do, why do you think this is and do you think it is a trend that will continue?
Which social media tools are the most popular in general in Canada? What about among business users?
Canada is a bilingual country. How has this impacted social networks and blog audiences? Do you think social media can play a role in bringing French and English speaking people closer together in Canada?
Is social media in Canada just for young people or is it spreading across multiple age barriers? What do they talk most about? How much of the conversation is business oriented?
Who or what are the greatest influencers on social media in Canada?
You and I have talked about Canadian businesses wanting greater access to American markets. How does social media lay into that strategy?
Can you give me one or two brief case studies of social media in Canada impacting business?
What trends do you see in Canada these days?
Additional comments
In the next few days, I'll post about each of Shel's questions. As I do, I'd welcome your thoughts on both the questions and my answers.
Please post any comments you'd like to offer and I'll incorporate them in my responses.