Shel Israel is coming to Canada in September to launch his new book, Twitterville. And he'll be doing it at Third Tuesday social media meetups in five cities across Canada: Montreal, Ottawa, Toronto, Calgary and Vancouver.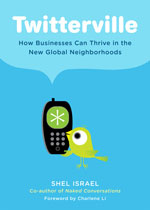 Three years ago, Shel co-authored Naked Conversations with Robert Scoble. Naked Conversations was a must-read book in 2006. It captured the zeitgeist of the blogosphere.
Now Shel Israel is back with Twitterville, his look at Twitter and how it is being used by people and organizations to connect, play, share, create community, organize…. You name it and we're finding a way to do it on Twitter.
Shel was the very first speaker at the inaugural Third Tuesday in 2006. So, launching Twitterville at Third Tuesday is like Shel coming home. I'm really excited that we're able to bring him to Canada to do this.
Hold these dates
We'll be opening registration for each of the Third Tuesday events with Shel in the next few days. In the meantime, mark the date of the Third Tuesday Twitterville launch in the city nearest you:
September 13 Montreal
September 14 Ottawa
September 15 Toronto
September 16 Calgary
September 17 Vancouver
What's it about?
I had a chance to read an early draft of Twitterville. It's a great read. Packed with interesting stories of real people using Twitter today. It drove home to me that we are still in early days of understanding the implications of social media and applying the new technologies to achieve the things we want to do. And it sparked my imagination, giving me ideas about how I can use Twitter and other social media in my own business and life.
I plan to post more about the content of Twitterville. In the meantime, you too can get a preview of the book. Shel has posted the book's Introduction on his blog, Global Neighbourhoods.
Thank you to our sponsors
We're able to bring Shel to cities across Canada thanks to the support of our Third Tuesday sponsors:
CNW Group, our founding sponsor;
Fairmont Hotels and Resorts, who are providing accommodation for Shel;
Molson Canada, whose use of social media Shel has profiled in Twitterville;
Rogers Communications, whose network provides us with both landline and mobile Internet access; and
Radian6, who provide us with the tools we need to monitor and measure social media.
Thanks to each of these sponsors, Shel's Canadian book launch will be just the first of several exciting initiatives we're planning for the coming year.
Stay tuned
We'll be opening the actual event registration soon. And we'll have more news about how you can get a copy of Twitterville signed by Shel Israel. So, subscribe to the ProPR RSS feed or check back here for more information.
——————–
UPDATE: Shel has blogged about his coming visit to Canada and his memories of when he came here in 2006 to launch Third Tuesday.